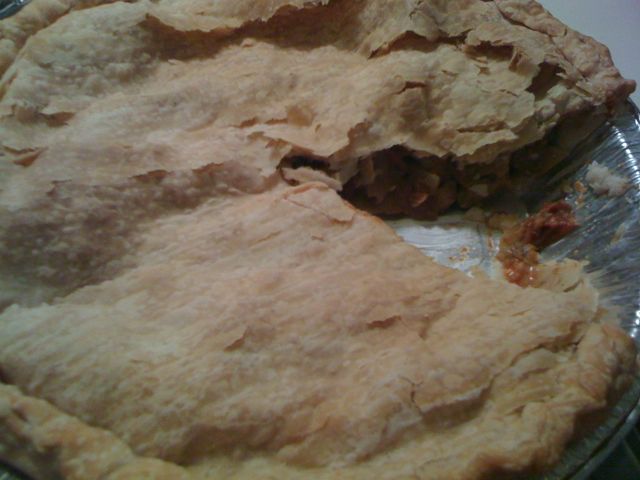 Before I became a vegetarian, one of my favorite things to eat was Marie Callender's pot pie. It was made with meat, but that's not why I liked it.  As I have mentioned before, one of the reasons that I became a vegetarian is so that I could get out of eating meat as a kid, because I didn't like the taste.  But I liked Dinty Moore Beef Stew, liverwurst, tuna gravy, and I really liked the chicken pot pie.
And here's the thing:  stew is extremely easy to make veggie, but pot pie? Not so much. At least, not if you don't want to add about a pound of butter at any rate.  So, I have been trying to come up with a decent recipe for years now, and nothing really duplicated my Marie Callender memories.  Until now.
The trick that really makes this a rich dish without a ton of dairy is the crust, which does have dairy in it.  The sauce is vegan, but I put the crust on the bottom and top to make it denser.  The other trick is the spice mix, which I cannot change or alter without taking away some magic ingredient that makes it hearty and delightful.  The actual vegetables and protein changes, but the sauce remains the same.
Here's how I made it in the picture.  The ingredients were taken from Fat Free Vegan's auxiliary recipes site and then altered to fit my taste, as well as what I had in the pantry.
Weekly Pot Pie

1 Onion chopped
1 Carrots — chopped
1 10 oz bag frozen mixed mushrooms
1 tbsp  Tomato Paste
2 tbsp Soy Sauce
.5 tsp Thyme
.5 tsp dried Oregano
1 tbsp Cornstarch
1 cup Peas, Frozen
.25  cup ground almonds (Trader Joes has a pre-ground pack of almonds I buy)
14.5 oz can fire roasted tomatoes
Pie Crust (with 2 crusts – one for the top and one for the bottom

Preheat oven to 375F.

Saute onion, carrot and mushrooms in a bit of water over medium heat until soft [about 5 min].

Stir in tomato paste, soy sauce, veggie stock, thyme, oregano and the cornstarch and simmer until slightly thickened. Turn off heat and add green peas, tomatoes and almonds.

Add bottom layer of pie crust to pie plate and spoon in mixture.

Taste and adjust the seasonings. Add top crust. Sprinkle with a bit of paprika, for color, and bake for 30-40 minutes, or until the crust is flaky and golden.
Tags:
Recipes
,
vegetarianism